This week, I had the opportunity to spend a day wandering the streets of Boston with no agenda besides starting at Quincy Market and ending near MIT on the other side of the Charles River before dark.  I salivated at the chance to do some people watching and listening – inspired by Alan Wright's blog post a couple weeks ago. 
Many people intrigued me, from the man on the park bridge playing a mournful melody on an amplified string instrument, stopping abruptly every thirty measures or so, to nip a bite of sandwich … to the gaggle twenty professional perfume spritzers at Macy's, each deeply concerned that I take a whiff of a new designer scent.  Do you suppose Macy's pays by the spritz?  But a man who plunked down next to me at a table in Quincy Market fascinated me the most.
First, I must explain the setting. Quincy Market always delights with vendor after vendor displaying scrumptious treats.  This day, I noticed something new – a vending machine that turns out a stick of cotton candy while you wait.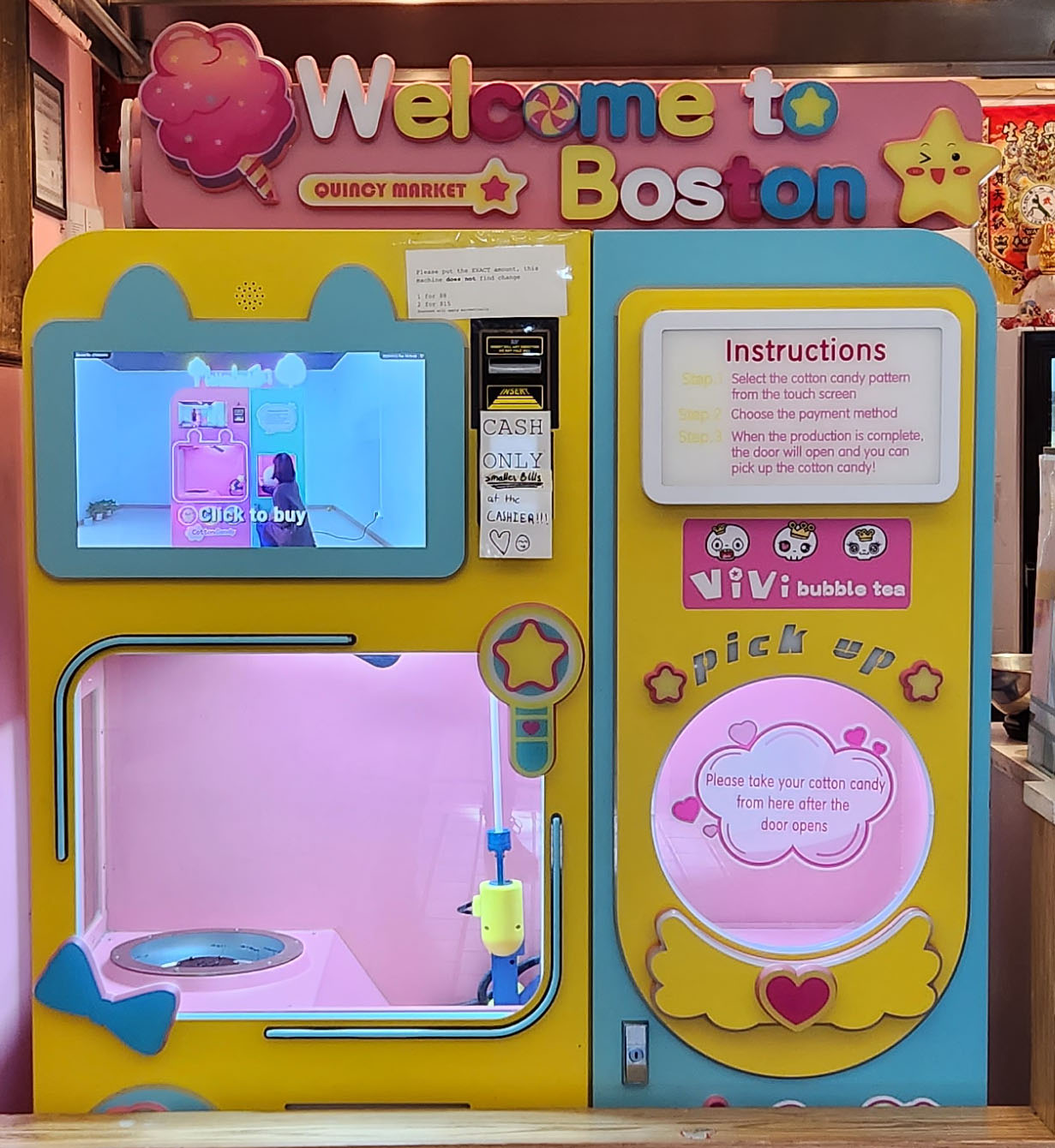 I watched the instructional video, which outlined these steps:
Insert cash and stand back.
Machine whirs to life and blows sugar webs.
Stick on robotic arm pokes out, rotates 90 degrees, and winds a pouf of candy.
Arm rotates to vertical and two robotic "hands" pat the candy cloud into a uniform ball.
Meanwhile, a new color of candy fluff billows below.
Robotic arm swoops down and winds another layer.
Robotic hands pat the mass into a uniform shape.
Voila! Arm pokes completed treat out through a window where the stick can be snapped free.
While the machine was entertaining, I was not in the mood for cotton candy at 10:30 in the morning.  I moved on, purchased a yogurt parfait, and found a table with my back against the wall where I could set up for some serious people watching.
As if on cue, an older man holding a stick of cotton candy pulled out a stool next to mine and slid in.  First, he admired his candy cloud.  Then he took selfies, smiling and posing with his treat.  I offered to take the picture for him, but he was so engrossed that he did not seem to hear me.  He stuffed his phone in his pocket and got to work.  Skillfully, quickly, he pulled off layer after layer and munched.  There was no lingering, no allowing the sticky sweetness to dissolve into his tongue.  No, he had more to see.  Now the cotton candy stood between him and his next discovery.  He brushed off his hands, grabbed his backpack with his tourist-group tag hanging from its zipper, and hustled away.  Who was waiting, perhaps on the other side of the world, to see him smiling with his fluffy treat?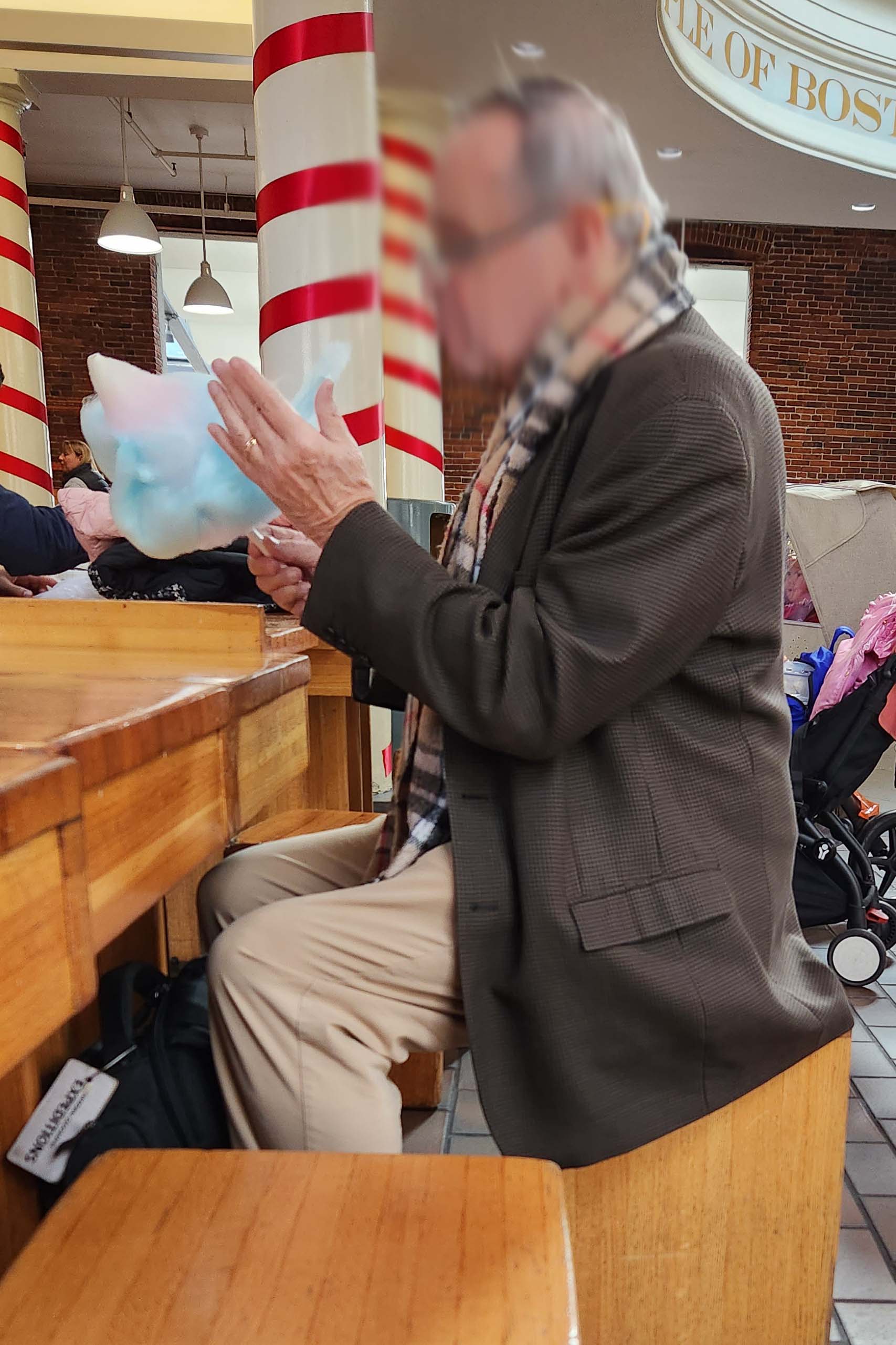 Exploring Boston
Contraption discovered!
A new-fangled toy
whirs and produces
sugar-spun joy.
Plunk at a table,
send picture to home,
gulp down my treat.
Where next to roam? 
For some Poetry Friday treats, please visit the kind and incomparable Irene Latham at Live Your Poem!